Page 3 of 4
DON SHIPLEY - HELL NIGHT


Special Thanks to Don Shipley and the Navy Seal Training Experience for donating a 'Hell Night' to auction off on behalf of the Never Quit Challenge!
NAVY SEAL TRAINING for Civilians...
Navy SEAL Training for Civilians
All my friends are Navy SEALs, family members are Navy SEALs, all our Training Instructors are Navy SEALs, and when you get through BUDS Training in the Navy, you'll be stationed in San Diego or "here" in Norfolk, Virginia at a SEAL Team.

I work my ASS OFF to show you guys, younger or older, what Navy SEAL, BUDS Training and ALL US Military Special Forces training programs are like.

I keep the prices as LOW as possible, and provide BUD/S Preparation Training here that is only second to actual SEAL Training in the Navy.

Guys come here to better themselves through adversity, they come here to "WIN." Nobody pays for a course to lose or feel bad about themselves, nobody comes here to take last place, get embarrassed, or be humiliated.

There is NEVER a good reason to lower someone's self esteem or confidence.

There is NEVER a good reason to destroy someone's dreams.

Running a "Proper" training course requires skill, YEARS of experience, and die-hard motivation to get it right and show guys what SEAL Training in the Navy really like.

Grab a weapon; get on the Helo… I'll show you what Special Forces Training is like… and you'll have a HOOT...
Don Shipley BUD/S 131, SEAL Team ONE, SEAL Team TWO.
NAVY SEAL TRAINING
http://www.extremesealexperience.com/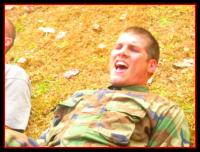 Hell Night "Belly of the Beast" is an intense 24-hour endurance course derived from Navy SEAL "Hell Week" and instructed by a cadre of veteran SEALs and Advanced SEAL Instructors who are hand picked...

CLICK FOR MORE INFO >>